BT Metals Proudly Joins the Journey to the Capitol
To usher in the 2021 holiday season, BT Metals is delighted to support the US Capitol Christmas Tree's journey to Washington DC.
This year's theme – "Six Rivers, Many Peoples, One Tree" – communicates an experience that bonds a rural community with the state and the nation, and is what attracted BT Metals to join as a partner.
As we emerge from a global pandemic, BT Metals welcomes the unique opportunity to validate our country's diversity and brilliance by adorning the People's Tree with ornaments to celebrate the spirit of our country.
BT Metals created 100+ ornaments made from remnant steel material to adorn the tree. The "Emerge from the Woods" ornament, symbolized by the historic Bigfoot figure, recognizes the resiliency of our people and their strength to face the next challenge. The "Strength Through Unity" ornament, symbolized by the eagle's feather, challenges us all to work together as one nation. The "Discover Your True North" ornament, symbolized by the North Star, represents the very best that each of us can be. These three interlocking themes grace the 2021 People's Tree and will shimmer proudly in front of the Capitol building to celebrate the holiday season. These special keepsake ornaments are for currently for sale online at Carl Johnson.com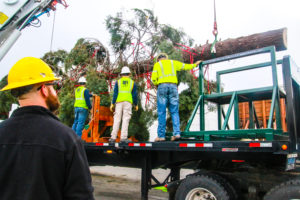 Staff also helped fabricate part of the cradle that carries the tree, creating a piece that will be used by forests for many years to come.
BT Metals is a third generation, family-owned metal fabrication/sales business founded by J. Chris Lovfald and Darrel Cunningham after WWII. Today, under the leadership of Lee Cunningham, BT Metals is a woman-owned business leveling the playing field in the construction arena. Lee's vision is to increase and encourage the nation's diversity goals in construction.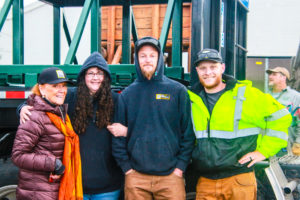 They are a leading metal distributor supplying mild, structural, and reinforcing steel, as well as aluminum, stainless steel, pipe, rebar, and industrial fasteners to construction contractors across the nation. BT Metals provides a very real, commercially useful and specialized service to the top large and small US construction firms. They are also one of the very few certified HUBZone metal material firms in the US. As a HUBZone WBE SB supplier BT Metals can assist you in meeting three of the federal small business subcontracting and small business participation goals.
BT Metals has provided quality service to the Humboldt County area for over sixty years and the client list now spans the nation, growing in size and scope.
BT METALS WISHES ALL A HAPPY, HEALTHY AND JOYOUS HOLIDAY SEASON!